In October of 2010, Monsignor Thomas Knopf-Bigelow was admitted to the Legion of Honor of DeMolay International, an organization dedicated to mentoring young men 12-21 years of age. The ceremony and celebratory dinner were held at the Hiawatha Masonic Lodge in Minneapolis, MN.

Membership in the Legion of Honor is awarded to those who have "actively demonstrated outstanding leadership in some field of endeavor, whether it be a civic, professional, fraternal or spiritual arena... [and] who can be implicitly relied upon [as DeMolay legionnaires]... to aid young men in carrying the ideals of DeMolay into every walk of life [from the DeMolay website]."

DeMolay International was founded in 1919 with the mission to prepare young men to "lead successful, happy, and productive lives" through the use of "timeless principles and practical, hands-on experience". Today, it has over 1,000 chapters around the world. Some of the young men mentored by DeMolay include the astronauts Frank Borman, Edgar Mitchell and Vance Brand, Minnesota Twins great Harmon Killebrew, author John Steinbeck, news anchorman Walter Cronkite, and actor John Wayne.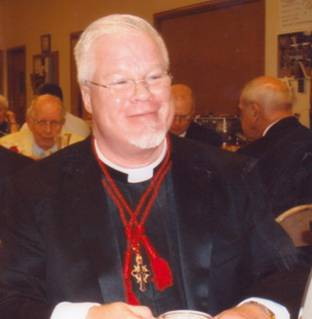 Msgr. Knopf-Bigelow wearing the Legion of Honor
award at the dinner given in his honor.