The Old Catholic parish of St. Anthony of Padua in Saint Paul, Minnesota has a new pastor. On September 9, 2013, the Reverend Monsignor Thomas Knopf-Bigelow was named the new pastor, replacing the parish's founder and retiring pastor, the Reverend Monsignor Anthony Dinzeo. The appointment was by the bishop of the Holy Cross Diocese of the Province of the United States (Old Catholic Church), the Right Reverend James R. Judd.
At the time of his appointment, Monsignor Knopf-Bigelow had been the parish's assistant pastor, a position he held since the parish's founding. Prior to that he had been pastor of Immaculate Heart of Mary parish in Saint Paul, MN and a Ramsey County Sheriff's Department chaplain. He has also been active in various philanthropic organizations and independent projects in the United States, El Salvador, and Vietnam.
Monsignor Bigelow, born and raised in Austin, MN, is a veteran of the U.S. Air Force and worked as an investigator for the State of Minnesota for a number of years. He is also a published author.
For directions and mass times at the Church of St. Anthony of Padua, visit the Parish web page of the Holy Cross Diocese.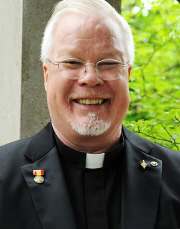 The Reverend Monsignor
Thomas D. Knopf-Bigelow